Meet the
VICC Ambassadors
Learn why we have joined VICC Ambassadors and how you can help us achieve VICCtory Over Cancer. 
Kelly and Anoosh Bahiraei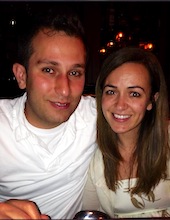 Anoosh and I joined the VICC VICC Ambassadors because we firmly believe in its mission: 100% (every penny) of donations are directed to cancer research that is considered to be some of the most cutting edge in the world of medicine. Today, we see traditional funding resources such as government funds only awarded to fund any research that has already been developed and explored to some significant extent. This presents a chicken/egg challenge: If a researcher must explore an idea prior to getting funding, how does the researcher fund the exploration? VICC and the VICC Ambassadors help researchers with brilliant ideas fund those initial steps.
We are incredibly passionate about these high risk, high reward scientific developments, and know that Vanderbilt's young investigators will have major impacts in fighting cancer during our lives. Cancer touches nearly everyone's life in one form or another, and no one is immune to the devastating effects of this disease. We know that fundraising for cutting edge cancer research is a way that we can make a difference in the world of healthcare. We hope that you will join us in financially supporting the VICC Ambassadors' goal of three discovery grants to be awarded in 2013.