Meet the
VICC Ambassadors
Learn why we have joined VICC Ambassadors and how you can help us achieve VICCtory Over Cancer. 
Mary Beth Ballard and Chris Murray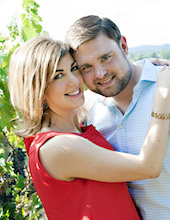 Everyone is or will be touched by cancer in some way throughout their lives. You hear that out in the world from time to time. If you would have told Chris and me that statement before this year, we may not have believed it quite like we do now. But it's true. We joined VICC Ambassadors this year to support research and discovery to detect, treat, and cure cancer of all forms.
We are inspired and motivated to make a difference in the area of cancer research – and the wonderful thing about joining VICC Ambassadors is that we truly can. The money that we raise goes to fund discovery grants for Vanderbilt cancer researchers starting out in their field. This money acts as "seed funding," much like a start-up company seeks, that can then help launch their careers. Their promising research projects then gain them larger and larger grants from places like the NIH. For example, just this year, a 2012 VICC Ambassador Discovery Grant recipient went on to secure $2.5 million in research funding. Since 2008, VICC Ambassadors have raised over $500,000 in discovery "seed" grants at Vanderbilt that have led to an additional $5 million in research funding!
As VICC Ambassadors, we vote on who receives the grants each year, allowing us direct involvement in this special process and the chance to meet and hear from the researchers. What could be more rewarding than helping young, brilliant scientists turn their ideas into cutting-edge, breakthrough discoveries that lead to preventing and healing cancer?
We want you to be a part of this amazing process too. We encourage you to be a part of this incredible, unique program by supporting us in order to fund our discovery grants. Our goal this year is $150,000 by December 31. You can be assured that every dollar donated will go directly to the researchers and their discoveries that may hold the key to the best treatments for your friends, family, or perhaps, even yourself, if you're ever faced with a cancer diagnosis.
There is no doubt that cancer is a life-changing diagnosis for everyone touched by it. But together, we can change lives for the better by empowering researchers and advancing medical science to make a positive difference in our community! Please join us and support us in making a difference today.