Meet the
VICC Ambassadors
Learn why we have joined VICC Ambassadors and how you can help us achieve VICCtory Over Cancer.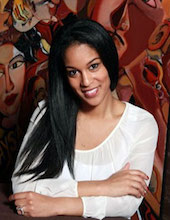 "In His hand is the life of every creature and the breath of all mankind." Job 12:10
"Why?" is a question that so many people ask on a daily basis. There are circumstances that occur to each of us that are not the result of rhyme or reason—they just happen. Cancer falls into that category. It doesn't discriminate based on age, race, religion, economic status, or sexual orientation. No one deserves to suffer from this or any disease, and a diagnosis does not necessarily reflect any decisions one has made.
I joined the VICC Ambassadors in order to combat a disease that unfairly plagues so many innocent lives. To give a mother another day with her child, a husband another day with his wife, a brother another day with his sister…these are just a few reasons for my commitment to this cause. Vanderbilt is a leader in cancer research and the VICC Ambassadors are a prime example of the impact that young philanthropists can have on changing the course of healthcare and helping the lives of others.
My family has been touched by cancer several times, as well as the lives of my friends, coworkers, classmates, and church members. I fear the thought of a personal struggle with this disease, and even more so that of future offspring. With appropriate funding, comprehensive understanding, and state of the art medical equipment, defeating cancer and other diseases is within reach. The fear of a diagnosis can be combated with the fact that healing is on its way. With targeted treatment options, medications, and holistic approaches, the disease will have less of an impact on one's health and financial well-being. Each dollar that the VICC Ambassadors raise for the "VICCtory Over Cancer Fund" goes to research initiatives that can help to provide the key to unlocking the cure. Questions will soon transition from "why," to "how" and "when." It is my prayer that the questions will receive the answers they need and patients and their families will receive their personal victory over cancer.
I encourage you to donate any amount. No gift is too small. Please help the Vanderbilt-Ingram Cancer Center VICC Ambassadors raise $105,000 to fund three discovery grants.
Continued Blessings,
LaDonna