Meet the
VICC Ambassadors
Learn why we have joined VICC Ambassadors and how you can help us achieve VICCtory Over Cancer.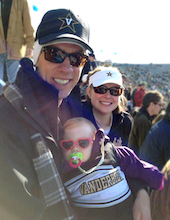 June 9, 2014 Update:
If you have visited this page before, you know that it has told the story of the intriguing journey that Todd and Emily Blake Jackson have taken in establishing and then expanding the VICC Ambassadors program.
Today a sudden twist in the road of that journey marked the end of Todd's personal battle with brain cancer. Not only has he stubbornly fought this new round of cancer with every bit of his waning strength for the past 11 months, but he has also continued to live life on his own terms with his family and friends.
During this time, Todd and EB have continued to be the extraordinary fundraisers they are – driven by the vision to expand research opportunities for cancer scientists, so that one day a multitude of new treatments will be added to the current treatments providing even more hope and renewed lives for individuals and families.
If you would like to honor this life well-lived that Todd has given to family, friends, colleagues and people he will never know, please use the link above that is set up to direct gifts to the VICCtory Over Cancer Fund-Todd and EB Jackson. You may also call 615-322-2929 to make a gift to the VICCtory Over Cancer Fund—Todd and EB Jackson.