Meet the
VICC Ambassadors
Learn why we have joined VICC Ambassadors and how you can help us achieve VICCtory Over Cancer.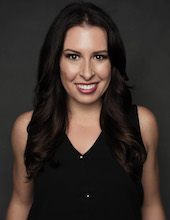 I, Ashley Larcinese, in June of 2016, was diagnosed with basal cell carcinoma. After multiple surgeries and an indented scar on my left forearm about 3 inches long, my personal passion for becoming a part of VICC became one of my top priorities.
Everyone is affected by cancer in some way, whether it is a family member, a friend, a loved one, a pet or their own personal journey. Along with my own personal diagnosis, my father was diagnosed with prostate cancer in 2009. He is in remission today, which we are so fortunate to announce.
I joined VICC to help contribute to and support the research behind developing treatments and cures for cancers of all types. Becoming an Ambassador within the group allowed me to join strong and powerful people with different struggles and commitments of their own. Focusing on what I can do rather than what I can't is taking small steps in the right direction. Small steps turn into MILES.
In addition to being an active member of the VICC Ambassadors, I also contribute to Special Olympics of Tennessee and Habitat for Humanity of Greater Nashville.