Meet the
Research Advocates
Research advocates at Vanderbilt-Ingram Cancer Center support our research efforts in many ways and for many reasons. Our advocates are cancer survivors, caregivers, and community members who are committed to making a difference.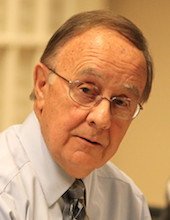 Number of years as a cancer survivor: 10
How many years have you been a VICC research advocate?  8
Why did you become a VICC research advocate?
To improve the decision making and outcomes of future patients diagnosed with cancer.
List any ways you are involved in the community, if any. (Ex: non-profit boards, volunteer work, committees, etc.)
Board member of Nashville based non-profit GIFT (Giving in Faith Together) and Dallas, TX based Unlimited Partnerships.
List any ways you are involved in national organizations, if any. (Ex: grant reviewer for DoD, national advocacy, etc.)
Research Advocate in Washington DC for ZERO Prostate Cancer.
List any presentations or poster sessions you have been involved in at scientific conferences.
Guest speaker at VICC's 2014 Retreat on Predictive Oncology.
Do you serve on any committees, advisory boards, etc. at VICC or VUMC?
I serve on two VUMC clinical research teams related to prostate cancer and a third team dealing with Patient Reported Non-Routine Events in advanced cases of prostate, breast, lung, and pediatric cancers. I was also part of the Engagement Working Group of the VUMC Strategic Planning effort this past summer (2016)
Any other information you feel would be relevant to your advocacy bio that is not covered above?
Listed as one of the authors on multiple clinical research papers coming from Dr. David Penson's CEASAR (Comparative Effectiveness Analysis of Surgery and Radiation) project.