Jim Ayers Institute for Precancer Detection and Diagnosis
A  conversation between Jim Ayers and fellow philanthropist Orrin Ingram, chair of the Vanderbilt-Ingram Board of Overseers, planted the seed that grew into the Jim Ayers Institute for Precancer Detection and Diagnosis at Vanderbilt-Ingram Cancer Center.
Ayers, who had created the Ayers Foundation in 1999 to improve the quality of life for Tennesseans, wanted to contribute to something that might save a lot of lives. Within a year, Ingram brought back a proposal to invest in the search for blood markers that could diagnose colorectal cancer early.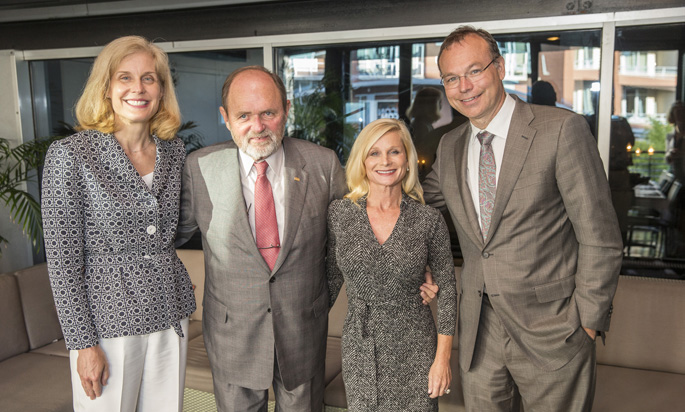 In 2005, Jim and Janet Ayers gave $10 million to help Vanderbilt University scientists find early markers for colorectal cancer that could improve diagnosis and potentially save lives.
That gift established the Ayers Institute and has yielded an impressive return: identification of protein "signatures" of the genetic mutations that drive the nation's second leading cancer killer after lung cancer.
Vanderbilt investigators analyzed hundreds of samples of colon tissue removed during colonoscopies and, by comparing normal to cancerous tissue, looked for protein markers that were unique to tumors.
The high point for institute scientists was the publication in 2014 of their findings in the journal Nature. Their work, described at the time as the first integrated "proteogenomic" characterization of human cancer, showed that proteomics can identify subtypes of colon cancers and especially subtypes that are associated with poor outcomes.
The proteins elevated in colon tumors do not get into the bloodstream in high enough levels to be detectable "bio-markers" for cancer. However, several key scientific advances came out of the institute, including:
Development of a proteomic "platform" that can analyze many types of cancer;
Development of cutting-edge bioinformatics for dealing with reams of data; and
Stimulating new avenues of research in gastrointestinal, breast, lung and head and neck cancers.
The Ayers Institute also attracted an estimated $125 million in funds from the federal government, pharmaceutical companies and private foundations that supported the research of more than a dozen Vanderbilt investigators.
Gifts like the Ayers' bring us closer to the ultimate goal of saving lives and prevent suffering due to cancer.
Impact
$10 million investment
$125 million in funding from federal agencies, pharmaceutical companies and private foundations
News and Features