The A.B. Hancock Jr. Memorial Laboratory for Cancer Research
When Waddell Walker Hancock founded the A.B. Hancock Jr. Memorial Laboratory for Cancer Research 40 years ago at Vanderbilt, she was determined that the right combination of imagination, perseverance and scientific talent could win the fight against cancer.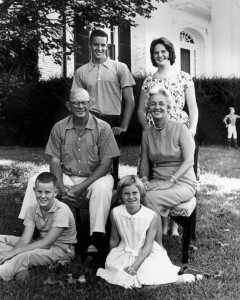 Hancock Lab researchers have earned many national honors and 13 patents for their studies of the role of the COX-2 enzyme in the progression of cancer and as a target for prevention and early detection.
Vanderbilt-Ingram Cancer Center and the Vanderbilt Institute of Chemical Biology developed out of the work of the Hancock Lab to merit national acclaim for cancer care and translational research that moves discovery from the lab to benefit patients. Today Vanderbilt-Ingram discoveries in cancer genetics are saving lives through precision cancer medicine that precisely targets therapy based on tumor characteristics for patients with melanoma and cancers of the lung, colon and breast. 
More potent cancer medicines are on the horizon as Vanderbilt-Ingram researchers identify promising candidates by designing novel molecules that effectively inhibit notoriously "undruggable" mutations found commonly in many cancers and drug-resistant tumors. This research could ultimately lead to treatment for many different types of cancer.
These groundbreaking innovations testify to the wonderful impact achieved by a remarkable family and friends working closely with Vanderbilt scientists. Their collective determination is offering cancer patients a brighter hope for the future.
Related Links
News and Features