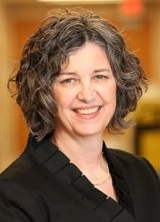 Georgia Wiesner, MD, MS
Director, Clinical and Translational Hereditary Cancer Program
Ingram Professor of Cancer Research
Professor of Medicine
Georgia Wiesner, MD, MS
Director, Clinical and Translational Hereditary Cancer Program
Ingram Professor of Cancer Research
Professor of Medicine
georgia.wiesner@vanderbilt.edu
Profile
Dr. Georgia L. Wiesner is an Ingram Professor of Cancer Research, Professor of Medicine in the Division of Genetic Medicine and the Director of the new Clinical and Translational Hereditary Cancer Program for the Vanderbilt-Ingram Cancer Center. As one of the few physicians in the country with dual certification in Internal Medicine and Medical Genetics, Dr. Wiesner has devoted her career to understanding the factors that cause cancer susceptibility. Since joining the Vanderbilt faculty in 2012, she has established a comprehensive Hereditary Cancer Clinic and research program for patients and family members who are prone to develop cancer.
Dr. Wiesner has a long-standing research interest in hereditary cancer susceptibility mainly focused on colon cancer and is also studying how genetic tests are used in clinical medicine as well as various ethical, legal and social aspects of genomic medicine. She established the Hereditary Cancer Registry in 2015 that collects clinical information, genetic testing and research testing on patients and their family members. In the future, the registry will also develop a new cancer risk prediction program that will exploit efforts in electronic family history taking and related strategies in precision medicine. This approach will help to identify Vanderbilt patients at higher cancer risk, so that these patients can be informed about the appropriate screening and other treatment options. In addition, Dr. Wiesner has established VICC as a research site along with Dana Farber in a pilot multi-centered study of lung cancer.
Dr. Wiesner is a current member of the Genetic/Familial High Risk Assessment, Breast & Ovarian Panel of the National Comprehensive Cancer Network (NCCN).This committee provides expert opinion in formulating guidelines for care of patient and families with heritable cancer syndromes. Her previous service includes the Editor-in-Chief of the Cancer Genetics PDQ Editorial Board at the National Cancer Institute from 2001 to 2005, and the Board of Directors for the American Society of Human Genetics, a past- President of the Board of Directors of the American Board of Medical Genetics and past-Chair of the Residency Review Committee for Medical Genetics (ACGME).
Prior to establishing her research programs at Vanderbilt, Dr. Wiesner served in several leadership capacities at Case-Western Reserve University (CWRU) and University Hospitals of Cleveland. She was the Director of the Center for Human Genetics from 2000 to 2008, Medical Director of the Clinical Cancer Genetics program from 1995 to 2012, and founded the first specialized clinic for delivery of genetic services to patients and families with hereditary cancer susceptibility in Northeastern Ohio.
Education
M.D., University of Minnesota, Minneapolis, Minnesota (1985)
M.S., University of Minnesota,Minneapolis, Minnesota (1981)
Internal Medicine Residency, University of Minnesota Medical Center (1988)
Chief Internal Medicine Resident, University of Minnesota Medical Center (1989)
Medical Genetics Fellowship, University of Minnesota Medical Center (1992)
Research Emphasis
Research Description
Publications